Alpha Source Group Speaks to 24×7 Magazine about Impact of COVID-19 on Medical Parts Supply
MILWAUKEE, April 7, 2020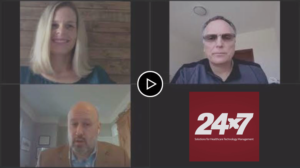 Keri Stephens, Editor-in-Chief at 24×7 Magazine, recently conducted a video interviewed of our President and CEO, Rich Springer, as well as the Senior Vice President and Chief Product Officer at PartSource, David Brennan.
During this this in-depth discussion, the three discussed how COVID-19 is currently impacting the medical equipment parts market and the actions each company is taking to ensure supply and meet demand.
The specific topics they addressed included:
How the COVID-19 pandemic is affecting business at their companies
24×7 survey results revealing concerns over sourcing parts from China
Medical equipment shortages
While both Rich and David continue to frequently monitor the situation and make adjustments each day, they simultaneously have their eyes on the future to determine what recovery will look like. Rich reflected on what Q3 and Q4 will look like and states, "There might be a ripple effect on the supply chain that could cause a disruption. … [T]here might be some of that aspect as we begin to look at the demand for recovery and post-recovery."
To address this, he's aware that Alpha Source Group will need to "make sure that the supply chain is there to meet the demands of the rest of the year and even into next year, because there is going to be this back-order element and this pent up demand." Moving forward, he said the company is already making plans to relieve this pressure to ensure they continue to supply parts moving forward.
To watch the full interview, click here.
###
About Alpha Source Group
Alpha Source Group is a next-generation service partner that's reinventing technical services, depot services and parts supply chain in the healthcare industry. Our breadth of healthcare segments served, depth of capabilities, and scale allow us to deliver service and parts, better and faster to our customers. The companies under the Alpha Source Group umbrella include Alpha Source, BC Technical and Medical Optics. Each organization brings its specialty in biomed, surgical or imaging solutions to create a comprehensive set of capabilities. We pride ourselves on the "3F Model" – fast, flexible and friendly. Modalities serviced include PET, PET/CT, CT, MRI, NM, SPECT & SPECT/CT, BMD, and Ultrasound. The company is headquartered in Milwaukee, Wis. For more information, visit alphasourcegroup.com or call 800-654-9845.